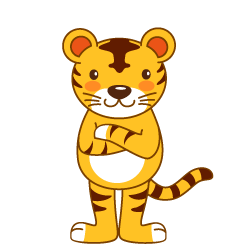 The year of the tiger symbolizes:
Courage and gratitude
Personality Traits
Positive:
Passionate
Honest
Optimistic
Aggressive
Negative:
Reckless when trying to pursue your goals.
You know you're a Tiger sign if:
Extremely energetic when you run into something which attracts your imagination and attention.
Willing to loose it all to succeed.
Ready for adversity and willing to try new things.
Compatibility with other signs
Most compatible with:
Horse and dog
Least compatible with:
Monkey
In Korean:
---
The tiger is written as:  호랑이/Horangi